Former Greens senator Scott Ludlum and another Extinction Rebellion activist have had bail conditions banning them from participating in more climate protests promptly thrown out by a magistrate.
High-profile barrister, Greg James, QC, who represented Mr Ludlum and protester Kim Warner, said during a short application at the Downing Centre Local Court on Thursday that the conditions were designed to lock-down political expression of those in the movement.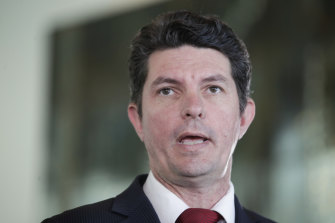 "In effect, the conditions are drafted so widely as to try to stifle legitimate political protests," Mr James, a former NSW Supreme Court judge, told Deputy Chief magistrate Jane Mottley.
Mr Ludlum, who was among dozens of protesters arrested in Sydney on Monday, was banned by police from going within 2.5km of the CBD and from attending further rallies. Ms Warner was barred from showing up at future protests and from associating with other protesters.
Both have been charged with disobeying police directions regarding a road closure. Mr James said the pair were entering pleas of not guilty.
The legal challenge came after the president of the NSW Civil Liberties Council, Pauline Write, said the bail conditions that the protesters were asked to sign were more commonly imposed on bikie gangs and those on terrorism charges.
"They're disproportionate to the gravity of the offences with which these people were charged, which would carry a small fine if not a section 10 dismissal," Ms Wright said.
The court heard police were concerned Ms Warner would commit a serious offence, while Mr Ludlum was feared to "endanger the safety" of victims or individuals in the community.
Wayne Law, acting for the police, said protesters had endangered their own safety by lying in the middle of the road just to "prove a point".
He said the pair were fined because they had departed from the agreement between the protest organisers and police who allowed the rally to go ahead.
Mr James said the road was closed and there was no traffic.
Ms Mottley said the allegations against the pair were far from the most serious requiring bail conditions in the Local Court, and that police concerns could be addressed without any such conditions.
More to come